Welcome to the Superfoods Meal Planner. Here we aim to excite you with delicious Superfood recipes provided by Sophie Jenkins founder of  'Wholehearted'.
Divided into breakfast, lunch and evening meals, the recipes are easy to follow, colourful, delicious, nutritious and cater for both you and your family. You'll be glowing from the inside out!
"While we started out as an organic cold pressed juice company, we rapidly evolved, through our continuous research, into the realm of superfoods after experiencing first hand their profound effect on health and well being." Sophie, founder of Superfoods company 'Wholehearted'.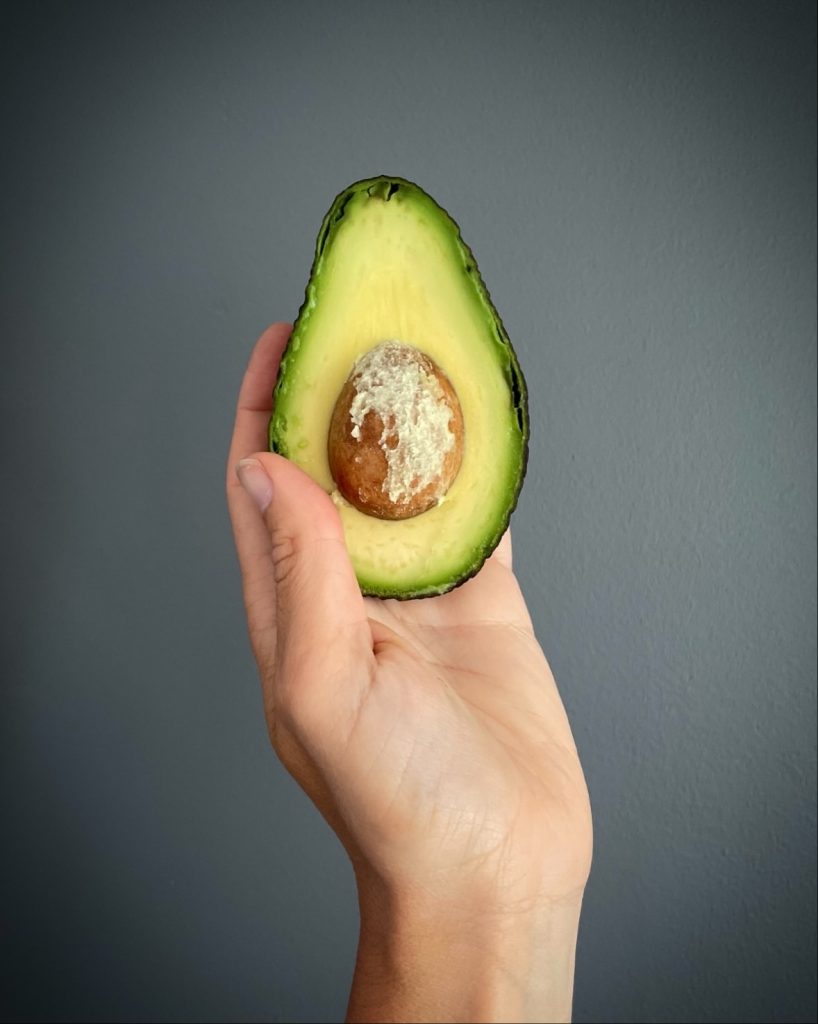 Now controversial as it may be, I am just not a breakfast first thing type of girl. I am never hungry in the morning and quite frankly I don't agree with eating for the sake of it. This then edges on the idea of fasting and boasts some remarkable benefits.
We were once told that we should always eat breakfast to boost our metabolism. However current research has found that short term fasting boosts metabolism by increasing levels of the neurotransmitter norepinephrine, which in turn can enhance weight loss. There too appears to be a direct link between fasting and the prevention of neurodegenerative disorders. These two benefits alone (and they are not alone) are enough for me. This is why I aim to finish eating at 6pm and then don't eat until 11am the following day. This gives me a 17-hour fasting period which seems to work for me.
When it comes to breaking a fast it is recommended that you do so with a lean protein (organic chicken breast) or a good fat. As I am plant based I always break it with a handful of macadamia nuts or half an avocado with olive oil and salt. I then wait for roughly 15 minutes and move on to my green smoothie!
I add to my smoothie one heaped teaspoon of wholehearted's own super green mix. Our blend is specifically formulated to give you a well-balanced hit of plant derived goodness, while boosting your energy levels and assisting the body's natural detoxification process.
Green Smoothie
Ingredients
A banana
A large handful of spinach
Half an avocado
Blueberries
A tablespoon of almond butter
200 ml of organic almond milk
One heaped teaspoon of our wholehearted super green mix
Method
Blitz in a blender until a smooth and creamy drink forms.
Note
You could add ice to the mix also. This is a welcome extra on a summer's day!
Our super green mix will be available to buy via our website soon.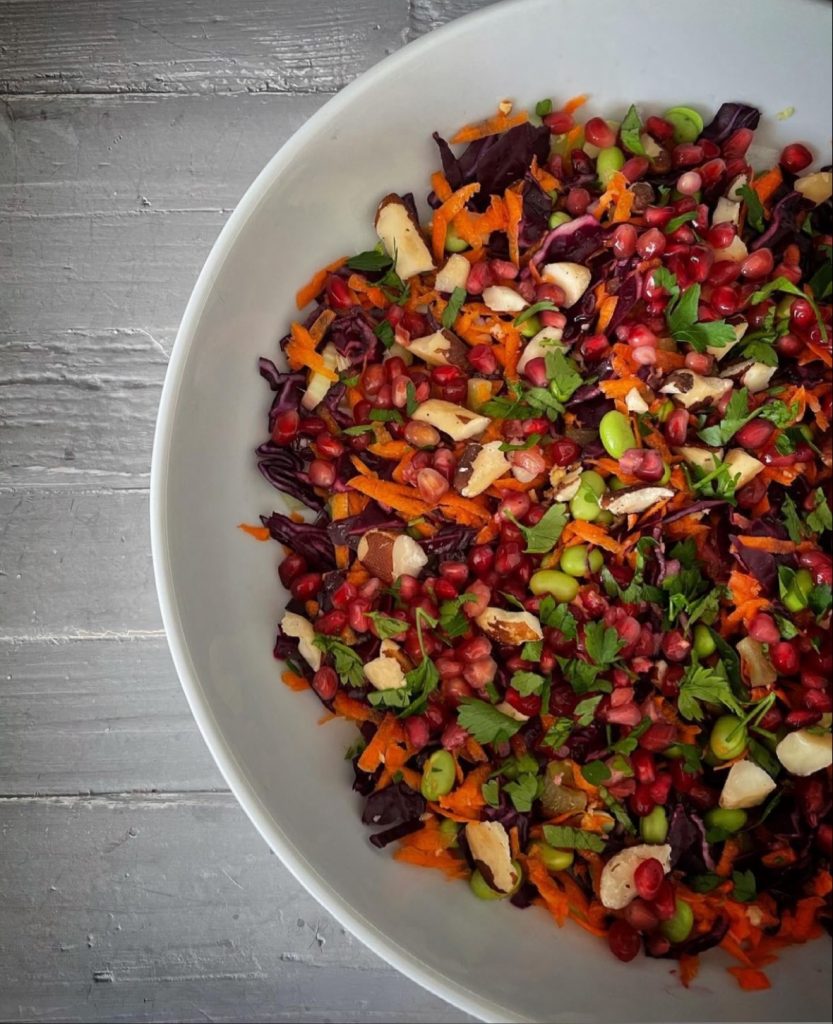 Rainbow Salad!
Don't chase rainbows….eat them!!!
Not only is this salad an absolute dream boat of a lunch option but it is also a perfect accompaniment to a summer BBQ or evening meal!
Once you try it you will be hooked on its scrumptious flavour and its nutritional boost! The ginger with its anti-inflammatory properties, the parsley with its superpower to remove metal toxins from your body and the brazil nuts that are high in a mineral called selenium, known to have potent antioxidant properties…. will leave you feeling like an absolute power house! Every time I pull this one out of the bag, I get asked to send the recipe over! On top of it all it is simple and quick to create! Win, Win!
Ingredients
½ a Red cabbage finely sliced
1 large carrot grated
2 sticks of celery finely diced
A handful of edamame beans
A sprinkling of pomegranate seeds
A handful of chopped fresh parsley
A chunk of ginger peeled and grated
A table spoon of olive oil
The juice of one lemon
A handful of brazil nuts smashed
Method
Mix the sliced red cabbage, grated carrot, diced celery, edamame beans (if cooking them yourself allow them to fully cool), grated ginger, olive oil, lemon juice and brazil nuts, in a large serving bowl.
Then top with the chopped parsley and pomegranate seeds. Then serve! Easy peasy!
Note
You can adjust the quantities to suit your taste and needs.
I always double everything and make a large portion so I have left overs for tomorrow's lunch.
Smoky sweet potato wedges with avocado whip!
This dish is comfort food at its finest! Its seductively satisfying, yet still totally healthy and nourishing! This will even tempt the fussiest of kids!
The fiber and antioxidants in sweet potato are advantageous to gut health, and their high levels of beta carotene (the antioxidant responsible for their bright orange colour) supports healthy vision. In fact, just 200g of baked sweet potato provides seven times the amount of beta carotene that the average adult needs per day. The beta carotene is actually converted to vitamin A in the body and it is this that is used to form light detecting receptors inside your eyes.  Vitamin A is also crucial in creating a strong immune system and maintaining a healthy mucous membrane in the gut.
What's not to love?!
Ingredients
5 sweet potatoes washed and chopped into wedges (not too thick)
Table spoon of olive oil
Teaspoon of salt
2 Teaspoons of smoked paprika
2 avocados
Juice of one 1 lime
Handful of coriander
Pinch of salt
Two table spoons of water
Drizzle of olive oil
Method
Heat oven to 200 degrees (with fan)
Place the cut sweet potato in a large baking tray, with the olive oil, salt and smoked paprika and mix well.
Place in the oven and allow to roast for roughly 35 minutes or until just starting to char on the edges.
While the wedges are cooking blitz the avocados, lime juice, coriander, salt, water and olive oil together in a blender until you have a smooth and creamy green dip.
Serve the wedges with the dip and a plain green salad topped with finely sliced red onion! You are in for a treat!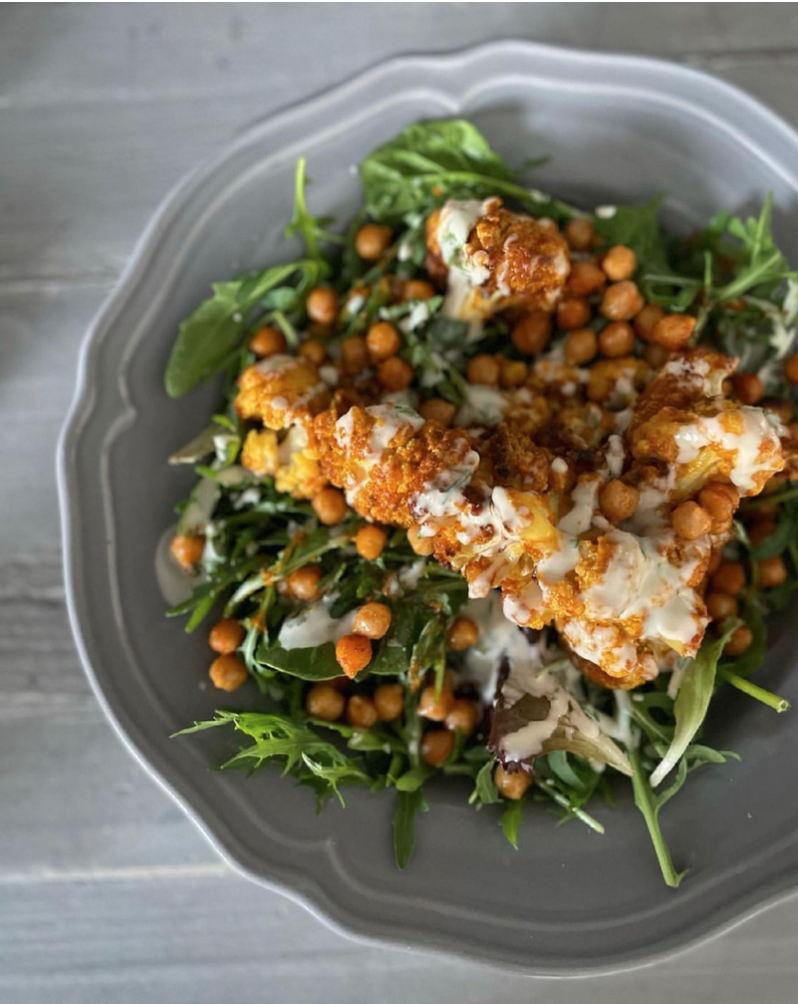 Roasted Cauliflower with roasted  chickpeas and tahini dressing!
My husband hates cauliflower. However, when I made this, he loved  it so much he went out the next day and bought all the ingredients again so we could have it the second night too!!
Are you a cauliflower covert?! Try this recipe and see!
Ingredients
1 and ¼ cup yogurt (vegan, if needed)
2 tablespoons oil
1 teaspoon EACH: coriander and paprika
1 tea spoon of smoked paprika
1/2 teaspoon EACH: cumin, fennel, turmeric, garam masala and salt
3 garlic cloves, very finely minced
1 1-inch piece of ginger, finely grated
Juice of  1 lemon
1 large head of cauliflower, cut into florets
1/4 cup finely minced coriander (extra for garnish)
2 tablespoons tahini
A generous pinch of sea salt
Rocket leaves
Mixed green salad leaves
Method
In a medium-sized bowl, whisk together ¾ cup of vegan coconut yoghurt, 2 tablespoons of oil, teaspoon of coriander, teaspoon of paprika, and ½ a teaspoon of cumin, turmeric, Garam masala and salt, juice of ½ a lemon, two minced garlic cloves and one inch piece of ginger finely grated.
Place the cauliflower florets in a bowl and pour in the DIY tandoori paste. Mix the cauliflower so that it is completely covered in the tandoori paste. Set the bowl aside for a 1/2 hour or in your fridge for up to 24 hours.
Meanwhile drain a can of chickpeas and place them on Grease proof

 

paper in a baking tray. Drizzle with olive oil and salt and a tea spoon of smoked paprika. Then roast in the oven until brown with a slight crisp. Once ready, set aside.
Make the tahini and coriander sauce while the cauliflower is marinating. In a small bowl, whisk the1/2 a cup of

 

yogurt, coriander (finely chopped), tahini, juice of ½ of lemon , one minced garlic clove

 

and salt. Add enough water to thin it to a dipping sauce consistency, about 1/3 cup water.
Preheat your oven to 200 degrees. Line a baking sheet with parchment paper. Empty the bowl of marinating cauliflower onto the baking sheet. Roast in the oven for 40 minutes, tossing halfway through.
Once cauliflower is done remove from oven and allow to cook slightly before placing it on a bed of green leaves and rocket. Then once you have added the cauliflower, sprinkle over the roasted chickpeas, drizzle with the tahini sauce and garnish with chopped coriander.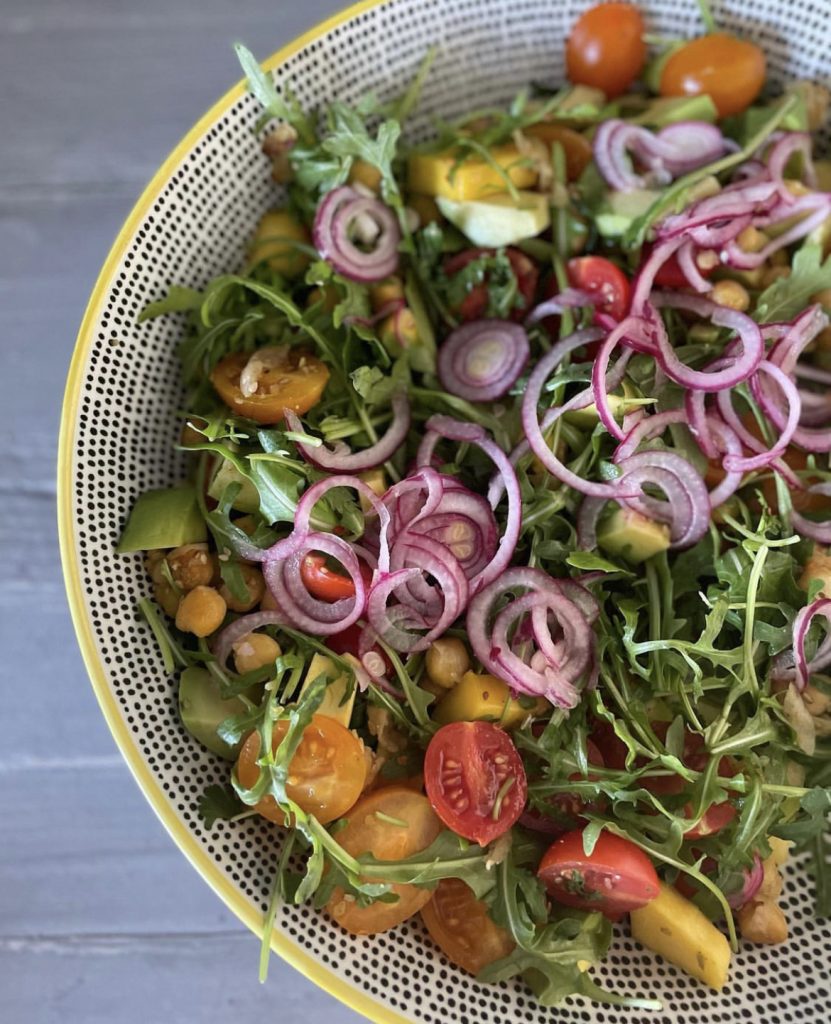 Pickled pink!
I am slightly obsessed with this delightful concoction! It is my go to lunch time fave and relatively quick to put together if you prepare the pickled onions before hand. It is the perfect solo piece for lunch or it can be a great accompaniment to a summer BBQ.
Ingredients
One can of chickpeas drained
Teaspoon of salt
Pinch of Chilli flakes
Olive oil
Red onion thinly sliced into circles
1 teaspoon Maple syrup
4 tablespoons of hot water
Juice of a lemon
A big pinch of salt
1 avocado
15 cherry tomatoes
1 mango chopped into cubes
Large handful of spinach
Large handful of rocket
Small bunch of chopped coriander
Method
Firstly, place the finely cut red onion ring in a bowl and cover with the maple syrup, hot water, the lemon juice and salt. Leave for at least half an hour covered in the fridge.
Heat the olive oil in a pan and add the drained chickpeas, salt and chilli flakes. Cook on a medium to high heat until browned, then set aside to cook.
Chop the avocado, tomatoes, mango and place

 

them on top of bed of mixed spinach and rocket. Then scatter the cooled chickpeas,

 

your pickled pink onions and some of the pickle juice as a dressing.
Garnish with a small bunch of chopped coriander and your good to go! The perfect summer salad!
Wholehearted is set to be a leading competitor in the superfood industry! We aim to deliver the highest quality superfood mixes, mushroom coffee and performance range.  
While we started out as an organic cold pressed juice company, we rapidly evolved, through our continuous research, into the realm of superfoods after experiencing first hand their profound effect on ones well being and general health. 
Along side this we are creating a cookbook set to bring delicious healthy food and superfoods straight into your family home. 
We are currently in the process of updating our website but please bare with us, it will be worth it, we promise! In the meantime you can find us on Instagram.
http://@wholehearted.organic